We learned from the pages of London Evening Standard that "More than £1.8 billion worth of homes have been sold at Battersea Power Station since they went on the market in January last year". None on these flats have been built yet.
Apparently most of this £1.8 billion came from the fortunate global launch that Battersea Power Station Development Company organized last month.  As we already suspected, the search for overseas investors has not been affected by fear of the chinese property bubble bursting – the due date of which is still under discussion among financial analysts.  The threat of a Mansion Tax did not slow the rush of foreigners to use their deep pockets in order to get their piece of Battersea Power Station. Even if the London property market, as shown in Estate Agents Knight Frank's report (see below), has appeared to slow down in the last few months, off-plan sales seem to work pretty well.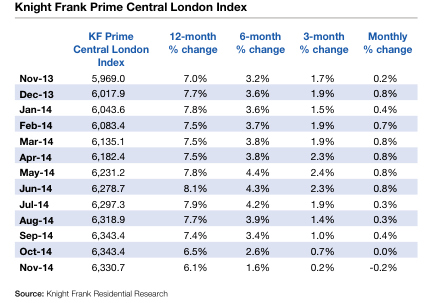 Taking Battersea Power Station as reference for this trend, The Newstatesman  recently reported that:
"Off-plan profits hit the headlines last week with reports that a studio flat in Battersea power station, sold for close to £1m in the spring, is now due to go back on the market for up to £1.5m before it has even been built."
Before anything has even been built, and while our concerns about the "Big Bang" business model of monstrous development projects are all to be proven erroneous, Battersea Power Station Development Company has actually done what all Battersea Power Station's previous developers have already proven to be masters at: demolition!
The first chimney of Battersea Power Station is gone. In the next weeks we will probably see it to come slowly back to a new life while the other three will start coming down all at once. We hope that the £1.8 billion will give Battersea Power Station Development Company enough energy to prove that, other than demolitions, they are good at building too.
Click Battersea Power Station for more blogs
See our Battersea Power Station project pages for more information and videos.
Or visit PlanA our general blog on urbanism, planning and architecture.
Spectacle homepage
Like Spectacle Documentaries on Facebook
Follow SpectacleMedia on Twitter