Dopo la decisione di Apple di trasferire il suo quartier generale all'interno della Battersea Power Station, abbiamo assistito ad un picco di attenzione mediatica nei confronti dell'edificio art deco, gemma del patrimonio architettonico nazionale. Negli ultimi mesi, al contrario, le vicende che riguardano Battersea Power Station sembrano scomparse dai media mainstream. Ciò non significa che nulla sia successo e Spectacle ha continuato a monitorare le iniziative della Battersea Power Station Development Company – società che gestisce il progetto di rigenerazione – attorno alla monumentale centrale elettrica progettata da Giles Gilbert Scott e tanto amato da Londinesi e non. Sfortunatamente molte delle novità non sono confortanti.
Cattive notizie o buone notizie? Come sempre buono e cattivo sono mescolati nel linguaggio commerciale e ogni fatto è filtrato ad arte in base alle convenienze. Per esempio il grande pubblico certamente è stato messo al corrente del fatto che la più grande e ricca azienda al mondo, Apple, ha manifestato l'intenzione di trasferire i suoi uffici all'interno della centrale elettrica al termine dei lavori di ristrutturazione. Apple è stata salutata positivamente, come abbiamo segnalato, praticamente da tutti i mass media (tra gli altri segnaliamo BBC, The Guardian, Evening Standard). Nel frattempo solamente il nostro blog ha dato notizia della demolizione totale dalla parete est della centrale, rimossa per far posto a finestre e dare così luce ai nuovi uffici della Apple.
Questa triste perdita, andata sotto completo silenzio in tutti gli altri media, è in linea con la curiosa strategia conservativa 'distruggi per preservare' ripetutamente applicata a porzioni della Battersea Power Station. Nonostante le migliori pratiche conservative del patrimonio storico architettonico prevedano il mantenimento della maggior parte dei manufatti esistenti, nel caso di Battersea si è deciso di procedere alla demolizione delle ciminiere e alla ricostruzione di repliche. Secondo noi questo è uno degli esempi più evidenti delle storture prodotte dall'intervento di interessi finanziari nel campo della conservazione, come abbiamo cercato di mostrare nel nostro film Battersea Power Station: Selling an Icon. 
Le demolizioni (ciminiere e parete est) sono state approvate da tutte le agenzie di controllo (in primis Historic England e il Municipio di Wandsworth) e giustificate in nome del bene ultimo rappresentato dal riportare in vita la Battersea Power Station. Ma quale bene è stato prodotto finora dal megaprogetto di rigenerazione, valutato in 9 miliardi di sterline e tra i più grandi in Europa? I lavori per la ricostruzione delle ciminiere sono andati avanti e, al momento, tre ciminiere nuove di zecca spiccano sulle rovine della centrale elettrica. Se tutto va bene, presto i londinesi saranno di nuovo in grado di ammirare tutte e quattro le ciminiere nello skyline di Battersea. Peccato siano false. Meglio di niente? Forse…
Pubblico non Pubblico
La Battersea Power Station Development Company, attraverso il suo amministratore delegato Rob Tincknell, ha recentemente annunciato l'apertura di una passeggiata lungo il Tamigi: "Siamo lieti di poter aprire nuovi spazi pubblici per Londra e di poter condurre la Power Station e i suoi dintorni di nuovo al centro della vita londinese" (dall'Evening Standard). Nonostante l'entusiasmo dell'annuncio, lo 'spazio pubblico' cui si riferisce Rob Tincknell è nient'altro che una breve passaggio pedonale privato, schiacciato tra il fiume e la cosiddetta Fase 1 del progetto. La passeggiata sarà integrata al più ampio lungofiume che sarà aperto al pubblico di fronte alla Power Station. Come il resto dell'area, anche questo spazio è tecnicamente privato e solo aperto al pubblico, cosa ben diversa dall'essere uno 'spazio pubblico' tout court.
Mentre eravamo intenti a fare delle riprese sulla nuova passeggiata, i membri della crew di Spectacle, ingenui, sono caduti nel tranello retorico dello 'spazio pubblico' pubblicizzato dai costruttori e si sono comportati come se davvero lo fosse. Sfortunatamente siamo stati ricondotti alla realtà da un membro del servizio di sicurezza venuto a ricordarci che il padrone di casa aveva deciso che non era permesso fumare in tutta l'area. Grazie al giudizioso gestore, la nostra salute è stata salvaguardata. Ci sembra però improbabile che uno spazio sottoposto a controllo privato possa garantire un libero godimento del lungofiume. Se i proprietari decidessero di bandire i picnic (magari per dare una mano i loro ristoratori) o manifestazioni di protesta, non ci sarebbe molto di cui lamentarsi: questo è ciò che accade quando si privatizzano spazi pubblici.
The Guardian in passato ha lanciato un allarme sugli effetti già prodotti dalla sovrapposizione di pubblico e privato lungo le sponde del Tamigi, diventato, secondo la loro indagine un "labirinto incomprensibilmente complesso di ostacoli privati e confusione tra municipi – nonché un campo di battaglia sui diritti di transito che potrebbe avere serie ripercussioni sull'accesso pubblico al fiume". Non un grande preludio verso quella che i costruttori offrono come un'esperienza unica.
Planning non Planning
Le pretenziose 230 pagine del 'manifesto' su Place Making prodotte dalla Battersea Power Station Development Company riserva un ruolo fondamentale alla diversità di usi e di inquilini. Nonostante l'impegno a costruire case (alcune delle quali a prezzo calmierato) per la popolazione londinese, i proprietari hanno cambiato idea, passando da appartamenti di lusso a uffici.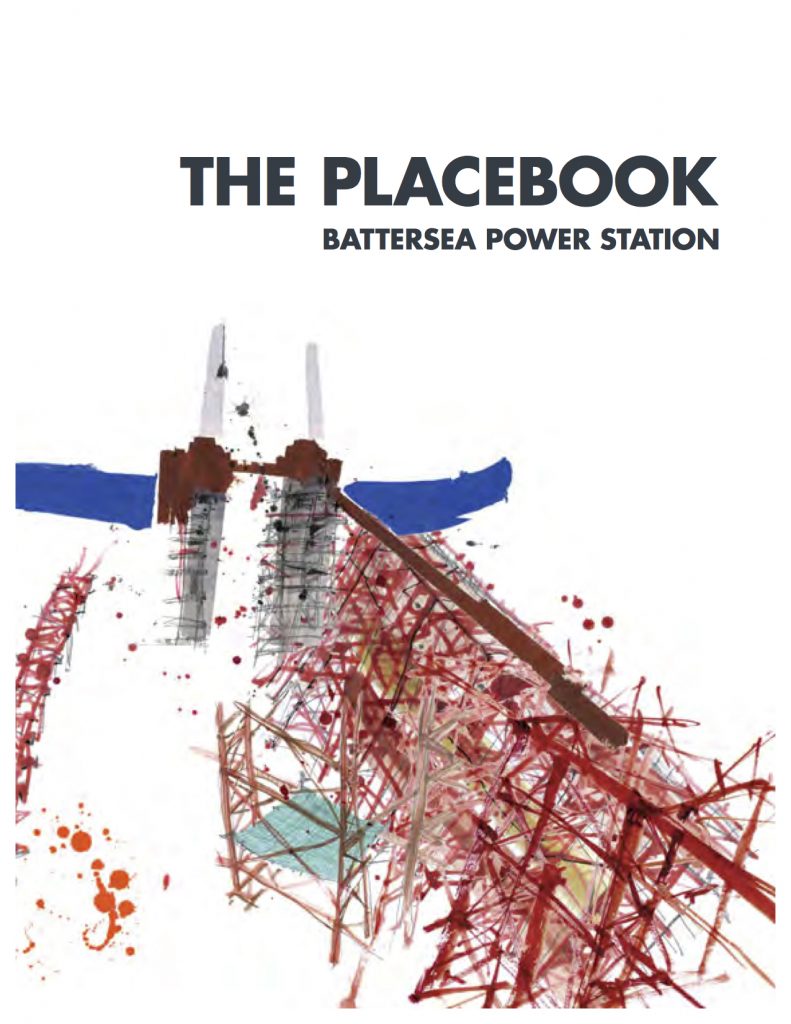 La Battersea Power Station Development Company ha presentato istanza per un cambio d'uso della cosiddetta Fase 3 del progetto. I costruttori hanno intenzione di trasformare due edifici, progettati dalle star dell'architettura contemporanea Frank Gehry and Norman Foster – i cui appartamenti sono talaltro già in vendita – da uso residenziale a uffici. Il Financial Times nel darne notizia, presenta come causa di tale cambio il drastico crollo dei prezzi degli immobili di lusso, mentre la domanda di spazi per uffici si manterrebbe alta così come il loro valore. Rob Tincknell ha così giustificato la mossa al Financial Times: "L'aspetto positivo dei progetti a lungo termine è che possono adattarsi al mercato. Se non c'è mercato per immobili residenziali e un mercato molto florido per gli uffici, allora costruiamo uffici".
Lo stesso Tincknell – che adesso esalta la flessibilità – in passato ha rilasciato un'intervista a Peter Watts, autore di 'Up in Smoke', testo sulla storia di Battersea Power Station, sottolineando come la propria azienda avesse prodotto una ricetta infallibile per rendere Battersea un luogo perfetto: "57% residenziale. Del restante 43%, che corrisponde a circa 315.000 mq, 110.000 mq in negozi e ristoranti, 158.000 mq in uffici e il resto con un buon bilanciamento di hotel, tempo libero e spazi per la comunità". Ci domandiamo che cosa è successo a questo piano pseudoscientifico per mescolare usi e gente, secondo gli autori risultato di lunghe consultazioni con gli abitanti dell'area. Forse non era così importante dato che oggi Tincknel può riferire al Financial Times: "è facile immaginare di aggiungere 93.000 mq (di uffici)" e cancellare dal progetto un hotel e un bel po' di appartamenti.
Il Battersea Power Station Community Group, praticamente l'ultima voce critica rimasta a mettere in discussione il progetto e le cui opinioni non sono mai state prese in considerazione dalla proprietà nel corso delle consultazioni, si sono scagliati contro la proposta: "Gli edifici di Gehry e Foster dovrebbero diventare case a uso sociale, con prezzi calmierati. Potrebbero esserci uffici ai piani bassi. Mentre assistiamo alla crisi abitativa più grave che sia mai stata vissuta a Londra, non si può dare via questi edifici nella loro interezza ad uso uffici".
Continuate a seguirci per aggiornamenti e nuove contraddizioni generate dalla megarigenerazione di Battersea Power Station.
Watch more videos on Battersea Power Station
Click Battersea Power Station for more blogs
See our Battersea Power Station project pages for more information and videos.
Spectacle homepage                                                                                                      Like Spectacle Documentaries on Facebook
Follow SpectacleMedia on Twitter