Abbiamo appreso dalle pagine del London Evening Standard che "More than £1.8 billion worth of homes have been sold at Battersea Power Station since they went on the market in January last year". Nessuno di questi appartamenti è stato ancora costruito.
A quanto pare la maggior parte di questi £1.8 miliardi proviene dalle vendite avvenute durante il fortunato lancio globale che la Battersea Power Station Development Company ha organizzato il mese scorso. Come sospettavamo, la ricerca di investitori stanieri non è stata resa difficoltosa dalle paure riguardanti l'esplosione della bolla immobiliare cinese – gli analisti finanziari stanno ancora discutendo su quando ciò avverrà. La minaccia di una Mansion Tax (tassa su immobili di lusso) non ha rallentato la corsa degli investitori stranieri per accaparrarsi il proprio costoso pezzo di Battersea Power Station. Nonostante il mercato immobiliare londinese, come mostrato dal report dell'agenzia immobiliare Knight Frank (vedi sotto), ha mostrato rallentamenti nel corso degli ultimi mesi, le vendite su progetto sembrano funzionare molto bene.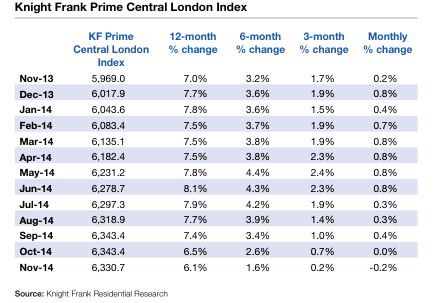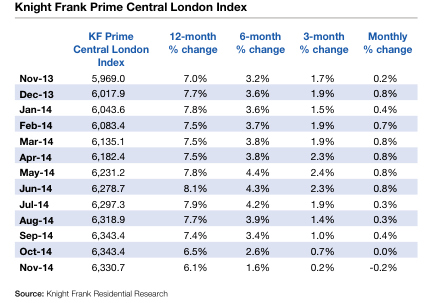 Prendendo la Battersea Power Station come esempio di questa tendenza, recentemente The Newstatesman ha scritto:
"Off-plan profits hit the headlines last week with reports that a studio flat in Battersea power station, sold for close to £1m in the spring, is now due to go back on the market for up to £1.5m before it has even been built."
Prima che sia stato costruito alcunché, e mentre le nostre preoccupazioni riguardanti il "Big Bang" dei modelli finanziari usati dai grandi progetti di sviluppo immobiliare aspettano di essere falsificate dai fatti,  Battersea Power Station Development Company ha già realizzato l'unica cosa che  tutti i precedenti costruttori impegnati nel progetto hanno mostrato di fare con maestria: demolire!
La prima ciminiera della Battersea Power Station è andata. Nelle prossime settimane assisteremo con ogni probabilità al suo lento ritorno a nuova vita, mentre le altre tre ciminiere verranno smantellate contemporaneamente. Speriamo che i £1.8 miliardi daranno alla Battersea Power Station Development Company energia sufficiente per provare che, oltre a demolire, sono capaci anche a costruire.
Click Battersea Power Station for more blogs
See our Battersea Power Station project pages for more information and videos.
Or visit PlanA our general blog on urbanism, planning and architecture.
Spectacle homepage
Like Spectacle Documentaries on Facebook
Follow SpectacleMedia on Twitter