In June, Spectacle began an online participatory video workshop series for a group of residents and community leaders in Greenwich.

This programme of 8 half day workshops was designed to build the skills and capacity of the diverse Greenwich communities to co-produce media. Through this training in smartphone video making, these individuals aim to produce content for and about their community of interest.

Over eight half day sessions this course is equipping the participants with core video production and editing skills. They are learning about cameras, framing, talking head interviews, filming locations, shooting action sequences, shooting to edit and editing.

Through practical exercises participants develop their technical skills and visual storytelling between sessions. The freedom of these exercises encourages participants to begin filming places and people for their projects. Topics of interest range from fashion to noise pollution to exercise and wellbeing. Some in the group are entrepreneurs running their own start ups and are excited to create content to showcase their enterprises.

Spectacle's skill development workshops give participants a foundation in the skills required to produce engaging, good-quality video content. After only four sessions, feedback has been tremendously positive. One participant called the sessions, "eye opening." Another spoke of how the practical exercises gave her the push and confidence to overcome her nervousness about filming.
Though the participants live locally within the same area, many do not know each other. These online sessions are also designed to encourage community cohesion and cooperation between diverse groups. Spectacle encourages resource sharing especially of equipment and skills and opens up opportunities to brainstorm about collaborations and future projects.

Spectacle's participatory workshops are delivered live and are fully responsive to participants' needs. These workshops assume no prior video knowledge and can be adapted to the available equipment of any group.

Participatory Workshops at Spectacle

Spectacle specialises in facilitating Participatory Video (PV) workshops aiming to give participants the tools to speak for and among themselves through video. You can read about our method here.
We approach filmmaking collaboratively and use workshops to share skills, responsibility, and authorship. Spectacle's PV process is based on workshops in which group members build technical competence, gain confidence in their creative inputs, control the editorial process, and share ownership of the final film.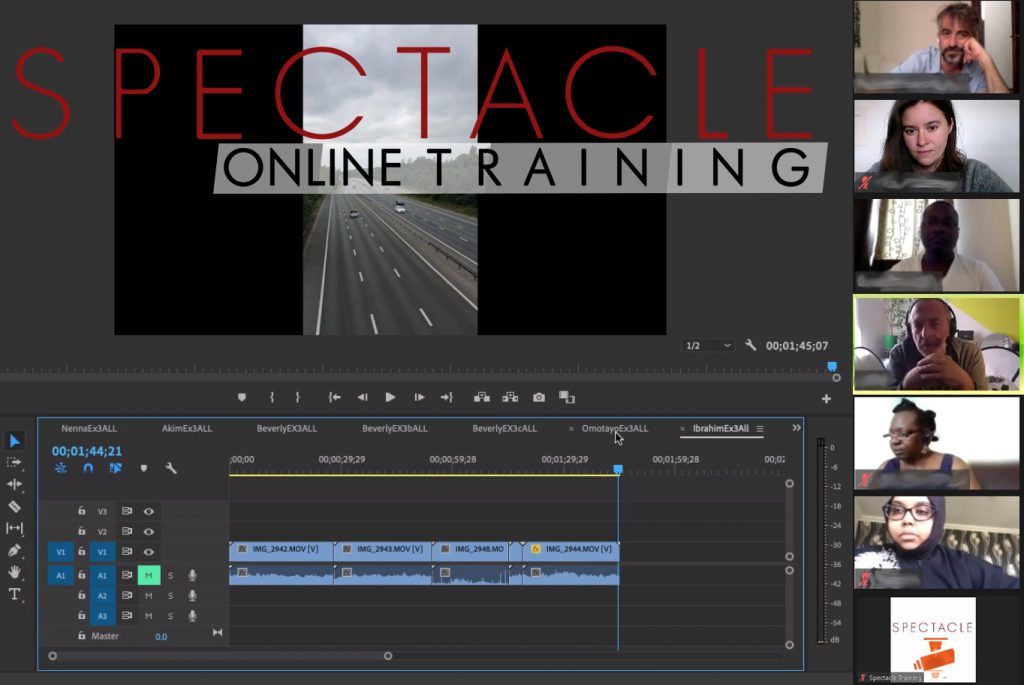 For over 40 years we have collaborated on participatory video projects with community groups, educational institutions including schools and universities, academics, researchers, NGOs, local councils, cultural institutions, and museums.
Our participatory video workshops can adapt to the nature and duration of any project. From research to outreach, from documenting to pure filmmaking strategy, working with existing groups or creating new ones, we can lead, facilitate, or just assist with your project.
If you are interested in learning more about Participatory Video consider our two week intensive course covering all aspects of our method and advice for planning your own workshops.
We absolutely love running participatory skill sharing workshops, and if you are interested in collaborating with us on a project or talking to us about facilitating workshops for your community or group, please get in touch by writing to training@spectacle.co.uk.
Sign up to our Newsletter for more information about our ongoing projects.
Spectacle Homepage
Like Spectacle Documentaries on Facebook
Follow us on Twitter, Instagram, Vimeo, Youtube and Linkedin