FIFA's general secretary, Jerome Valcke, paid a visit to Brazil where he made clear the football authority's position: "Alcoholic drinks are a part of the FIFA World Cup, so we're going to have them. Excuse me if I sound a bit arrogant, but that's something that we won't negotiate."
His comments could well be taken as inflammatory, if not just arrogant, since Brazil has held a policy of prohibition at football stadiums since 2003 in an effort to reduce violence. The fact that Budweiser is a long-term sponsor of FIFA has no doubt some small bearing on this decision-making.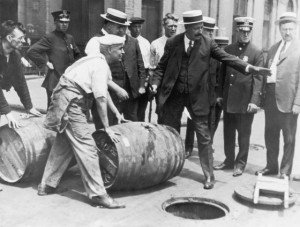 While alcohol can currently be consumed legally in Qatar, there are restrictions. Alcohol can be purchased in a few clubs, bars, certain hotel restaurants; however, to consume alcohol in one's own home a special license is required. The question of whether the consumption of alcohol will be permitted to in additional areas and at the games themselves has been asked. Hassan Abdulla al Thawadi, chief executive of the Qatar 2022 World Cup bid, has said the Muslim state would also permit alcohol consumption during the World Cup. A few specific fan-zones will be set up during the event, they will provide alcohol for sale.
If FIFA are willing to negotiate a few specific fan zones with Qatar, why is there no negotiation in Brazil? It is difficult to believe that any of these decisions were made outside of the bribery and corruption that seem endemic to FIFA. Jerome Valcke was accused in 2011 of letting slip that Qatar 'bought' its place as host in 2022, so perhaps Brazil should have bought their right to host the World Cup at a higher price and saved themselves some trouble.
Click London Olympics for more blogs
See our Olympics project pages for more information and videos.
Or visit PlanA our general blog on urbanism, planning and architecture.
Spectacle homepage
Befriend Spectacle.Docs on Facebook
Follow SpectacleMedia on Twitter