We are happy to announce the release at COP27 of the first 2 videos shot and directed by young activists as the outcome of a Participatory Video project facilitated by Spectacle for FAO's 'Stories from local heroes fighting climate change, biodiversity, and malnutrition crises"
Over the last 6 months Spectacle has been supporting the United Nation agency Food and Agriculture Agency – FAO with our Participatory Video expertise in order to allow young activists from all over the world to produce short videos about their everyday struggle to mitigate climate change and develop better and more sustainable food systems. The project 'Stories from local heroes' aims at collecting stories from people whose communities experience the immediate impacts of climate change. Spectacle has facilitated the participatory video process to let young activists produce short documentaries about their effort in fighting malnutrition and biodiversity crisis.
Over the last 6 months Spectacle has facilitated online workshops with participants from Nepal, Nigeria, Kenya, Ecuador and Venezuela, working with them in Spanish and English and providing them with training on how to shoot good quality videos with their phone, developing their filming ideas and supporting the production of short documentaries that would illustrate stories they care about. Using our online editing experience, we engaged them in selecting and cutting the footage, directing us in the technical process of editing together the stories that would best represent their point of view.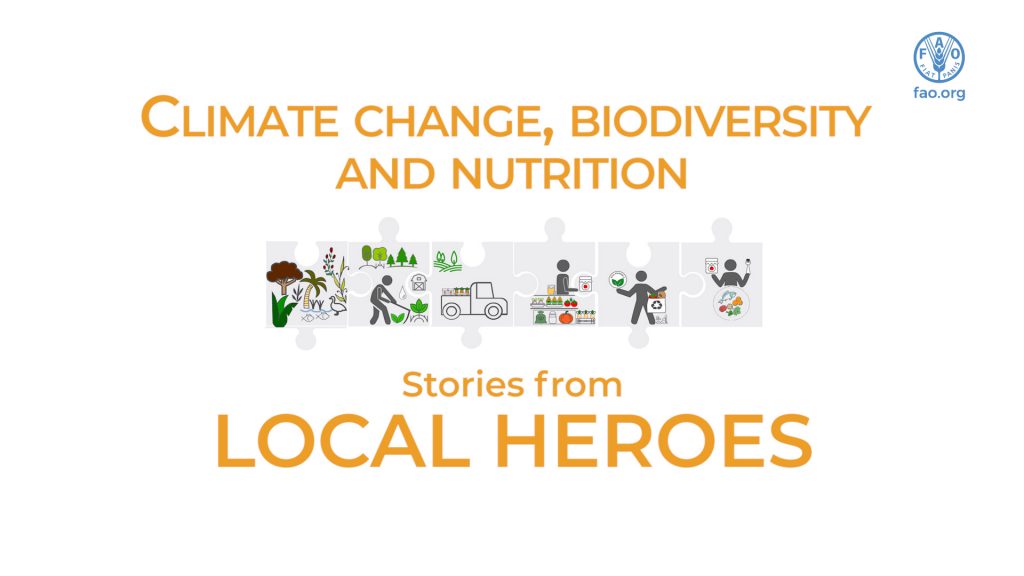 The first two videos were launched by FAO at the United Nation conference on Climate change COP27, shown on big screens welcoming visitors to The Food and Agriculture Pavilion in Sharm El Sheikh for the duration of the conference. The first two videos are shared worldwide and will remain available on FAO's youtube channel, which will also host 3 other videos that will be released in the coming weeks. FAO will offer Local Hero's participants and their stories a platform to raise awareness on the effects of climate change and, more importantly, to inspire others with local initiatives aimed at mitigating the impact of climate change, improving biodiversity and access to sustainable food.
Spectacle has been pioneering Participatory Video practice and workshop based collaborative documentary making for over 30 years. Adapting to changes in technology, nature and duration of the collaborations, Spectacle has successfully deployed strategies to support existing local groups, social research participants, local stakeholders in making their own videos around the stories that most mattered to them. Spectacle provides technical training and workshop facilitation in order to allow people who have a story to tell to work together in order to share their messages with the rest of the world.

Since 2020, due to COVID related restrictions to travel and in-person activities, we have been further developing our Participatory Video practice in online working environments. We have been part of research projects based in different areas of the world, providing participants with filmmaking skills and tools to develop visual stories using the technology available to them. In tune with our long established practice, we have facilitated video making processes aiming at giving editorial power to participants. For this reason we have developed strategies not only to allow participants to record videos with their phones, but also to engage them with video editing and storytelling.
We welcome any opportunity to explore collaborations with research groups, NGOs and local communities to facilitate Participatory Video projects and develop participant-led video production.
Read more about our participatory model and past projects.
Contact Us

If you want to be trained in Participatory Video you can attend one of our Participatory Video Workshops or organise a bespoke programme for you and your organisation.
For more information or to chat about your project and ideas email us at training@spectacle.co.uk
Sign up to our Newsletter for more information about our ongoing projects.
Spectacle Homepage
Spectacle training courses
Like Spectacle Documentaries on Facebook
Follow us on Twitter, Instagram, Vimeo, Youtube and Linkedin